Tradition and innovation – Innova Healthcare
text Veronika Dlouhá photo archive Innova Healthcare
Healthcare has always been seen as a social priority in the Czech Republic, but at the same time, as something taken for granted. Over the last year, we've all learned how important health is to individuals and to society as a whole. Perhaps it made us rethink some of our views. For example, on the efficiency of our healthcare system. Although it faces numerous problems, the Czech healthcare system is of a very high standard. Even so, it can improve. Thanks to, among other things, the people looking for ways to keep the good and the functional, while opening the door to new possibilities.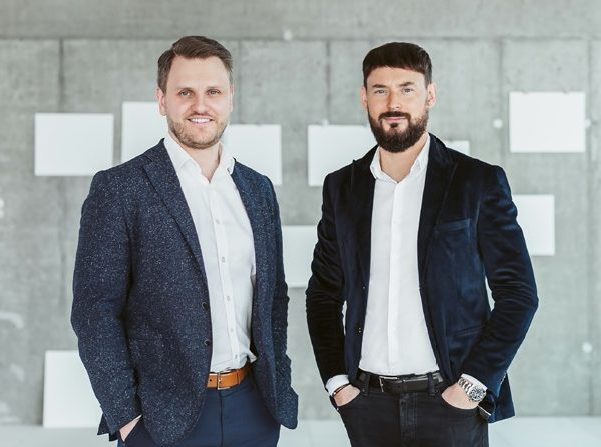 Looking to the future, with a respect for the grassroots, are financiers Michal Šindler and Lukáš Uhlík, who have been building Innova Healthcare, among others, as part of their financial group GAIN over the last three years. The company provides healthcare primarily in the areas of same-day surgery, imaging, preventive care, IVF and immunology, and employs four hundred experienced medical professionals. It builds on their expertise, quality of care and an innovative approach.
Thanks to the good work of all its employees, the company currently manages around 60 individual clinics and medical facilities. However, they are separate accounting units that often share premises. Management is trying to link them into larger, logical units, of which there are currently ten. They are leading providers of healthcare services covered by health insurance in the areas where they operate. Tens of thousands of patients visit these facilities each year, undergoing thousands of surgeries and hundreds of thousands of other procedures, representing hundreds of millions of points. The company's aggregate turnover increased by 25% in the Covid year 2020, while the company achieved a 37% year-on-year increase in aggregate revenues, with increasing operating profitability in the first 5 months of 2021.
Business in the healthcare industry has different characteristics today than it did in the past. It must respond to not only societal changes, but also to the specific needs of patients resulting from our way of life. We are living longer, suffering from civilisation diseases and dealing with fertility problems. The Czech healthcare system is of a very high standard compared to Europe or even the rest of the world. And not just in areas dealing with the problems mentioned above. But the truth is that it hasn't changed significantly in a long time, so it needs innovation to continue to help us and to succeed as a business segment. These will improve the quality and efficiency of provided care.
Original idea: generational shift
The main topic in Czech business in recent years has been the generational shift. However, this does not just concern commercial companies, but also the healthcare sector. Many doctors went into business for themselves in the 1990s and after two or three decades have built a reputation, an experienced team and regular clientele. Today, many doctors are slowly thinking about closing their practices or cutting back their hours, but often have no one to hand their practice over to. Yet they want their patients to continue to receive the same quality, if not better care and for their longstanding work to continue in a meaningful way.
And that's exactly what Innova Healthcare can offer. It has a solution that's not about numbers, spreadsheets or profits, but about doctors, nurses, other medical staff and, above all, patients. Doctors-entrepreneurs, often tired of combining the work of "doctor-administrator-economist",will find a partner in Innova Healthcare that can help them. They can devote their time and attention to patients, while the experts at Innova Healthcare will take care of administration, accounting and operations. Worries about the operation and future of their practice are often replaced by a newfound joy in their work as a doctor.
Moreover, this partnership has prospects. "We're not interested in short-term investments with big profits. Quite the opposite. We're about strategic, long-term partnerships. We can provide clinics and practices with the stability they need to develop or if they're looking for a new direction," says Michal Šindler. "We're aware that the generational shift has opened up investment opportunities that will not be repeated for a long time. We want to take advantage of this, but we also want to do business responsibly, to be a strong private provider of quality healthcare and, of course, a major player on the Czech market," adds Lukáš Uhlík.
Good work and professionalism
Michal Šindler and Lukáš Uhlík are building their partnerships with doctors and clinics just like their company, slowly and carefully. "We approach acquisitions with the utmost respect. We realise that we are not buying numbers, but someone's life's work; decades of work by doctors and nurses, often even their whole families. That's why we try to reassure everyone that we're not just interested in investment, but also in sustaining care and its development through our financial group. We're looking for common ground, for a direction in which a particular healthcare facility should move in the future," Uhlík explains.
If the doctors-founders and Innova Healthcare agree, they try to ensure continuity. This is true in all respects, but especially in personnel. Not only doctors, but also their professional medical staff have years of experience, know their work and their patients and have earned their trust. And that's the greatest asset. "Four hundred doctors, nurses, laboratory technicians and other staff work in the facilities that are part of Innova Healthcare. We know their work is top notch and we respect them for that," emphasises Šindler.
A strong financial group can help a healthcare facility significantly advance the quality of care or medical devices. It has the means to renovate, buy the latest equipment or improve conditions for patients. It also seeks to improve the quality and accessibility of healthcare in the places it operates by linking individual facilities into larger units.
Team of experts
Innova Healthcare seeks cooperation with medical professionals, but also offers its own expertise. Last year, it added a team of experts with experience in healthcare, health insurance, public administration, the private sector, law and financial management.
Key members of the team include Markéta Hellerová and Richard Paulik. Board member Markéta Hellerová is a healthcare manager, doctor and lawyer with extensive experience in senior positions in public and state administration. She worked in the top management of a university hospital, where she was responsible for health insurance revenues, drug policy and personnel management. She therefore has a very good understanding of healthcare facilities and the health insurance system. New CFO Richard Paulik brings experience from corporate and investment banking to the team. He has held senior positions at leading financial institutions such as the PPF Group and BNP Paribas, and most recently as Head of Corporate Banking at Sberbank CZ.
Technology is the future
Innova Healthcare is building on the solid foundations of well-established clinics and practices and on the professional work of experts who provide patients with high-quality care. And it wants to help with their continued development. New technologies can make doctors and nurses' jobs easier and give them more time for patients. New tools can help improve care and communication with patients. Telemedicine, for example, has a great future in this respect, which the company wants to incorporate into its concept later this year.
The introduction of these technological innovations into everyday practice is a matter of the near future. But the people at Innova Healthcare are trying to look beyond the horizon. "Digitalisation and modern technologies are making their mark in medicine; this is no longer an unachievable goal. And we're not just talking about modern medical devices or imaging equipment. Data and artificial intelligence will play a growing role. There is a wide range of possibilities and we are actively interested in them," says Šindler.
Evidence of this, for example, is the project in which Innova Healthcare is involved through its MRI clinic. A team led by Assoc. Prof. Jan Lešták, MD, CSc., in cooperation with the Czech Technical University, is developing a unique brain implant that hopes to restore the ability of the blind to distinguish shapes. The project is still in its infancy, but it is raising great hopes. And this is just one example in the field of modern medical technology that Innova Healthcare is pursuing or in which it is involved.
What are the company's further plans?
There are thousands of smaller outpatient clinics and dozens of similar facilities in the Czech Republic. The experts at Innova Healthcare are monitoring these to try and find those that fit the company's concept. Naturally with a vision of long-term development. As a market, the Czech healthcare sector still offers plenty of opportunities for consolidation and innovation, which will result in better quality healthcare and the higher performance of individual facilities.